The Ultimate Cocktail Mixers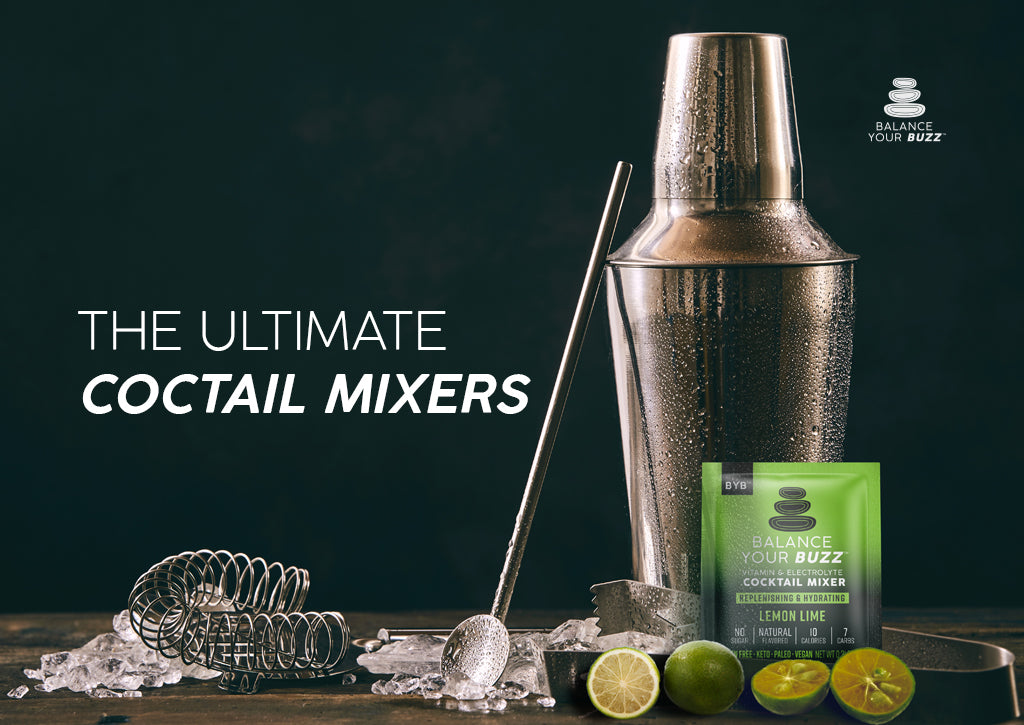 Cocktail mixers are available these days to ease the task of bartenders in finding the right mix of ingredients for the perfect drink. When it comes to preparing the cocktail of the customers' choice, it's all about the combination. The best mixers are developed sensibly by experts through various research and packaged in a sachet as a pre-made cocktail mixer. It is, of course, beneficial  to both the bartenders and the cocktail lovers, as it enables the cocktail lovers to consume the perfect cocktail drink, which is free of any combination error. 
Ultimate cocktail mixers are ones that are formulated not only by keeping the interests of the cocktail enthusiasts in mind, but also by taking their health  into account. With such broad criteria, Balance Your Buzz (BYB) cocktail mixers are made up of fewer calories in a diet-friendly way, and they have a unique feature to help you wake up refreshed and productive the next day. 
BYB cocktail mixers  also neutralizes the ill effects of alcohol and is the source of vitamins and electrolytes, thereby emerging as the ultimate cocktail mixer.
What Does an Ultimate Cocktail Mixer Consist Of?
An ultimate cocktail mixer consists of a balanced amount of electrolytes, vitamins, antioxidants, anti-inflammatory agents, potassium, magnesium, calcium, and other beneficial elements. BYB cocktail mixers are synonymous with the ultimate cocktail mixers, having elements that enhance the taste, balance the alcohol impacts, impart health benefits, and overall turn the beverage into a refreshing one that sets you up for a productive tomorrow.
Electrolytes
Electrolytes are minerals such as calcium, chloride, magnesium, phosphate, potassium, and sodium that possess an electrical charge and are present in the blood, tissues, and urine. Electrolytes have unique properties and are vital for the following reasons: 
To maintain a healthy water balance

To manage the pH balance of the body

To transport nutrients and signals in and out of the cells

To excrete cellular wastes

To ensure the proper functioning of the brain, heart, nerves, and muscles
Balance Your Buzz (BYB), the ultimate cocktail mixer, has the recommended levels of electrolytes to offer hydration and refreshing effects on consumption. It primarily helps to detoxify your body and rejuvenate your metabolic pathways disturbed by alcoholic ingestion, thereby keeping you set for the next day.
Vitamins and Minerals
Vitamins and minerals are essential for your body to function efficiently and are acquired through the food that we consume. They also contribute to antioxidant properties and anti-inflammatory properties in addition to recharging your body against nutrient depletion by alcohol consumption. BYB, the ultimate cocktail mixer, is composed of: 
Vitamin B1: It is responsible for the provision of energy to the brain, nerves, and the body as a whole. It also conducts signals through the body. 

Vitamin B6: This vitamin is responsible for boosting immunity, fortifying the nervous system, improving hemoglobin synthesis, promoting the breakdown of protein, and maintaining blood sugar levels in our body.

Vitamin C: Its main role is offering protection against chronic diseases, lowering the risk of heart diseases, improving immunity, and safeguarding against damage caused by free radicals through its antioxidant property.
Thus, BYB, the ultimate cocktail mixer, proves itself the best source of vitamins to reload the depleted nutrients of alcohol and gear you up for the next day.
Antioxidants
Antioxidants yield a wide range of perks with regard to eye health, neural wellness, cardio care, skin health, athletic performance, and many more. BYB, the ultimate cocktail mixer, contains astaxanthin, the potent antioxidant, which is responsible for numerous health benefits ranging from cerebrovascular benefits to muscular flexibility and making you able  to welcome another dawn with a fresh state of mind.
Anti-Inflammatory Agents
The anti-inflammatory properties of certain antioxidants, minerals, and vitamins aid in overcoming the shortcomings of alcohol. BYB, the ultimate cocktail mixer, consists of vitamin C, magnesium, and the antioxidant astaxanthin, which all promote anti-inflammatory actions.
How Are Cocktails Made?
There will always be some innovative things to know in the community of cocktails. With some essentials, you can prepare cocktails that have a special aroma and are quite impressive and scintillating. Just start your cocktail mixing with some chilled glassware and a shot glass.

It doesn't take much to mix your first drink. There are numerous favorite cocktail recipes available in pre-made cocktail mixer packs. Pour them into a glass with ice and stir with a spoon  to enjoy the refreshing flavor of a delicious cocktail drink that is made simply by hand.
Enhancement of Cocktails
Willing to up your cocktail play? Investing in quality liquor, keeping your glasses chilled, and measuring all additives are a few ways to constantly develop innovative cocktails. Thus smaller details are to be adjusted and managed skillfully for classic cocktail styles.
To Wrap Up
The ultimate cocktail mixers are now available to help you effortlessly make the best cocktails. BYB, the ultimate cocktail mixer, is packed with versatile ingredients designed to support a healthy body and reduce the negative effects of alcohol. Designed to mix beautifully with alcohol and also help keep you refreshed the morning after a night of drinking enjoyment. Try the ultimate cocktail mixer BYB to stay fresh for a productive tomorrow, and thank us  later for this recommendation.